Let Us Bring Your Smile To Life
General, Cosmetic, and Restorative Dentistry
Exceptional Dental Services
Work with a dental office that cares about your wants and ensures you receive what you need. At Dr.  Ted Eckermann, DDS and Marian Burgard, DMD, we take the time to make sure you completely understand all your options. Whether you are a new or existing patient, you can count on our staff to treat you right.
We proudly offer a range of quality dental services, including teeth cleanings, digital X-rays, crowns, Invisalign, and more. Utilizing state-of-the-art technology, we deliver the highest level of dental care that you deserve.
For dental care you can rely on for the entire family,
call us at 585-621-2040 or request an appointment today!
For dental care you can rely on for the entire family, call us at 585-621-2040 or request an appointment today!
Stop into our office for a routine hygiene care appointment. We recommend receiving a dental exam and teeth cleaning every six months. Plaque and calculus will be removed from your teeth during the cleaning, leaving behind a bright and polished smile. X-rays may need to be taken to help detect possible cavities in between teeth that the naked eye cannot see.
For our patients' safety, we administer digital X-rays due to their minimal radiation exposure. Digital X-rays do not need to be processed; they can be immediately displayed, enhanced, and magnified on the computer monitor. Many oral diseases cannot be seen during a regular exam. Finding and treating dental problems can prevent discomfort and prevent the need for more extensive dental treatment.
The likelihood of developing decay begins as soon as their adult teeth appear, which is why we recommend children and teenagers receive sealants. Sealants are resin materials applied to the chewing surfaces of the back teeth- the premolars and molars. The resin bonds to the depressions and grooves in the back teeth to protect the tooth enamel from plaque and acids.
Fluoride reduces cavities and helps repair the early stages of tooth decay. Topical fluorides, such as toothpaste or mouth rinse, strengthen teeth to make them more decay-resistant. Systemic fluorides are those that are ingested into the body and become incorporated into forming tooth structures. As a result of the widespread availability of these various sources of fluoride, the decay rates have decreased immensely.
A crown can help restore a damaged tooth with an excessive amount of decay. If there is insufficient tooth structure and the resultant forces of function that the tooth will endure are significant, Our doctors may recommend a crown to restore the tooth.
Composite fillings are used to eradicate any tooth decay present in an x-ray. The composite resin material is used in place of traditional amalgam fillings. This metal-free option is stronger than traditional materials and gives the appearance of a natural tooth structure.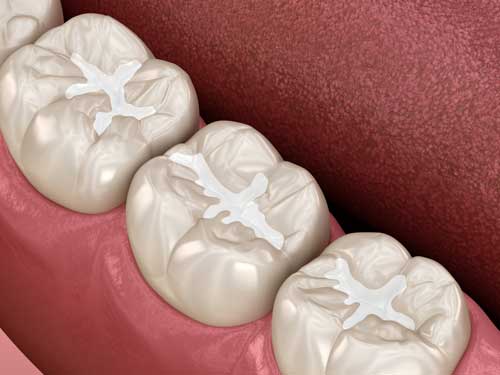 A veneer is a thin layer of lab-processed porcelain that covers the fronts of a tooth's surface. This is a treatment option that requires less tooth preparation than a traditional crown. Veneers are used to create a more aesthetically pleasing smile by changing the alignment of teeth, closing spaces, or lengthening teeth.
Invisalign is a remarkably innovative method to straighten teeth without the weight of braces. It is invisible, removable, and comfortable. Each set of aligners is worn for about two weeks, moving your teeth gradually until you've achieved the desired result. An insurance policy that covers traditional braces typically also covers Invisalign.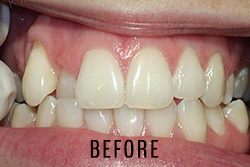 Enhance your smile with efficient teeth whitening at our office. Get rid of coffee stains, smoking, or other stains over time and achieve a beautiful and brighter smile. When you visit our office, we can help determine if you are the right candidate for teeth whitening.
Request an Appointment for Invisalign or other services!
Many of our patients choose implants to replace a single tooth, several teeth to support a complete set of dentures, or a full implant retained denture. When missing one or more teeth, there are plenty of reasons for implants to correct the problem. If you are in good general health, with healthy gums and a jawbone that can support an implant, this treatment may be an option for you.
A single tooth implant is a free-standing unit that replaces the tooth's missing root. It does not involve treatment of the adjacent teeth. The implant can stabilize your bite and help prevent problems with the jaw. If the surrounding teeth are healthy, they can remain untouched.
Implant-Supported Bridges & Dentures
Implant-supported bridges are used when several teeth are missing. The bridge replaces the lost natural teeth and some tooth roots. The dental implants integrate with the jawbone, causing the implant-supported denture to be comfortable and stable.
A hybrid bridge is an implant-supported denture that is not removable by the patient. This hybrid is usually implemented when a patient has advanced gum disease, extensive treatment needs, or doesn't want removable dentures.
If you have experienced an extensive breakdown of your teeth, oral reconstruction may be the only solution to save your smile. Treatment may involve multiple disciplines of dentistry, including veneers, crowns, fillings, bridges, implants, periodontal therapy, and preventive dentistry.
Dr. Eckermann & Dr. Burgard are well-versed in using multiple methods to reconstruct and restore a patient's oral health. You can regain comfort, the ability to chew, and a beautiful smile with oral reconstruction.
An individual may require wisdom teeth removal if they are experiencing pain, infection, gum disease, or tooth decay near the area. Our team will examine your mouth and take any necessary x-rays to determine if removal is right for you. 
Single tooth removal can happen due to an untreatable fracture or is necessary for orthodontic treatment. Our doctors will assess your oral situation and perform a careful procedure if necessary.
Some individuals deal with severe gum recession, leaving the tooth exposed. With soft tissue grafting, we can reconstruct your gum line to prevent tooth deterioration and improve the appearance of your smile. 
Before performing dental implant surgery, we must graft the bone to replace the missing tooth. The bone naturally shrinks or resorbs over time. The new bone must be grafted to create a secure site for placing implants.
When all teeth are missing, we can create complete dentures that are removable and designed to restore your smile. We can create and place your custom complete dentures in just a few visits. They are crafted to fit your individual mouth comfortably to enhance oral health and function.
When in place, dentures can… 
Help restore your ability to eat and speak
Replace your missing teeth
Prevent facial sagging
Improve the appearance of your smile
Get ready to smile!
Book and appointment with our friendly staff today!
Dr. Theodore C. Eckermann,
DDS & Dr. Marian Burgard, DMD
539 Long Pond Road
Rochester, NY 14612
FROM SEPTEMBER THROUGH APRIL
Monday: 8:00 a.m. - 5:00 p.m.
Tuesday: 8:00 a.m. - 5:00 p.m.
Wednesday: 7:00 a.m. - 4:00 p.m.
Thursday: 7:00 a.m. - 3:00 p.m.
1 Friday/mo: 7:00 a.m. - 3:00 p.m.
2 Saturdays/mo: 8:00 a.m. - 1:00 p.m.
FROM MAY THROUGH AUGUST
Monday: 8:00 a.m. - 5:00 p.m.
Tuesday: 8:00 a.m. - 5:00 p.m.
Wednesday: 7:00 a.m. - 4:00 p.m.
Thursday: 7:00 a.m. - 3:00 p.m.
1 Friday/mo: 7:00 a.m. - 3:00 p.m.